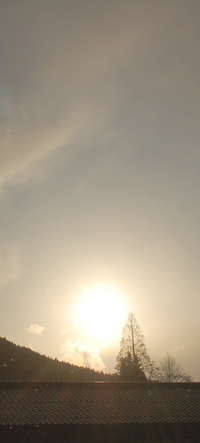 "Urgent Information" from Mr. Masatoshi Takeshita
High-dimensional entities in the universe have been regularly showering us spiritual light or energy. People with keen spiritual sensitivity can feel this light coming in from overhead.
Mr. Masatoshi Takeshita gives us information on "when this light will be showered on us" and "from what entity this light will come" in advance, in the form of urgent information. Each time it is showered, this light has different purpose, but, as a rule, it benefits all beings. The light will help enhance qualities such as love and virtues and promote spiritual advancement for those who have achieved a certain level of requirement.
As a rule, all beings can received this light spontaneously. And furthermore we are sure to receive more blessings by chanting the name of the entity sending out light while it is being showered.
Urgent information is notified on our website/blog/twitter and also is delivered via e-mail. If you are interested in our free mailing service,
please refer to: ≫ Subscribe email Newsletter.
Example of "Urgent Information"
Urgent information:
"On January 23, 2012, for one hour from 1 p.m. Japan Standard Time (JST)"

"It is our great pleasure to inform you that ( the name of entity) will shower us Light of Grace for one hour from 1 p.m. (JST) tomorrow on January 23, 2012."

As a rule, all of us will be able to receive this light. However, this light will not reach those who have committed many follies and have been excluded from our Sirius System.

Furthermore, we are sure to have more blessings by repeating this Divine name for one hour.

All the people who can take this message would be advised to repeat the name of (the entity) for one hour from 1 p.m. to 2 p.m. (JST) on January 23, 2012.

You may repeat His/Her name either aloud or in the silence of your heart. By repeating the Divine name, those who have already achieved the absolute passing level will step up to one higher level in their evolutionary stage of consciousness.

Please pass on this message to as many people as possible.